Mr. Jahangir Siddiqui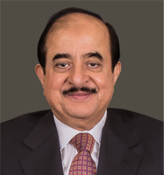 Jahangir Siddiqui's numerous entrepreneurial initiatives, commencing from the inception of the JS Group in 1970, has led to him playing a significant role in defining the financial sector in Pakistan.  An endeavor accomplished through the development of equity and fixed income instruments and trading, fashioning of the largest private investment and asset management organization, and the creation of one of the larger commercial banks in Pakistan, JS Bank, of which he is currently the Chairman. As Chairman of JS Investments Ltd. (formerly ABAMCO), Pakistan's oldest and largest Private Sector Asset Management Company, he was responsible for creating strategic joint ventures investments with Allianz AG, AMVESCAP / INVESCO plc, Bear Stearns & Co Inc, Dubai Bank and the International Finance Corporation.
His association, past and present, on Boards of major companies span key economic segments including; energy, shipping, engineering, industrial and the financial sectors. Seeking to leverage his expertise the government has utilized him in various functions including; Member Privatisation Commission, Economic Advisory Board and the Exchange Reforms Committee, among many others committees related to investment, taxation and finance. As a member of Exchange and Reforms Committee he was crucial in articulating an agenda which opened up Pakistan's capital markets to foreign investors.
He has been associated with the Karachi Stock Exchange in various capacities including President. During his term he was able to introduce key initiatives including the establishment of the Central Depository Company of Pakistan (Sole entity handling the electronic (paperless) settlement of transactions carried out at all three stock exchanges of the country). In an advisory capacity as a part of a Special Committee he was crucial in recommending measures to ensure the integrity of the market through enhancing depth and diversification.
He dedicates a significant amount of time and wealth to philanthropic activities. Education, he believes is the key imperative behind attainment of any developmental objectives for a country.  His affiliations are reflective of this and include representation on the Boards of; Endowment Fund for the Education Department, Government of Sindh, Institute of Business Management (IoBM), Sukkur Institute of Business Administration and the National College of Arts (NCA), Lahore.
As Chairman of the Board of Trustees Endowment Fund Trust for Preservation of the Heritage of Sindh, Government of Sindh, he is articulating an agenda which is committed to modern growth but ensuring that this is derived from and a function of tradition.